The following screenshots show the basic (non-static IP) setup for an Actiontec DSL modem configuration for E Street DSL. There are a few different versions of the ActionTec user interface and these instructions are specifically for the Actiontec GT724WGR.
With the modem connected to the PC via Ethernet cable (or USB cable):
1. Open a web browser (Internet Explorer, Safari, Firefox, etc.)
2. Type http://192.168.0.1 (www is not required) in the address field of your browser.
3. Press 'Enter' on your keyboard to load the Actiontec modem configuration screen.You should see the following screen: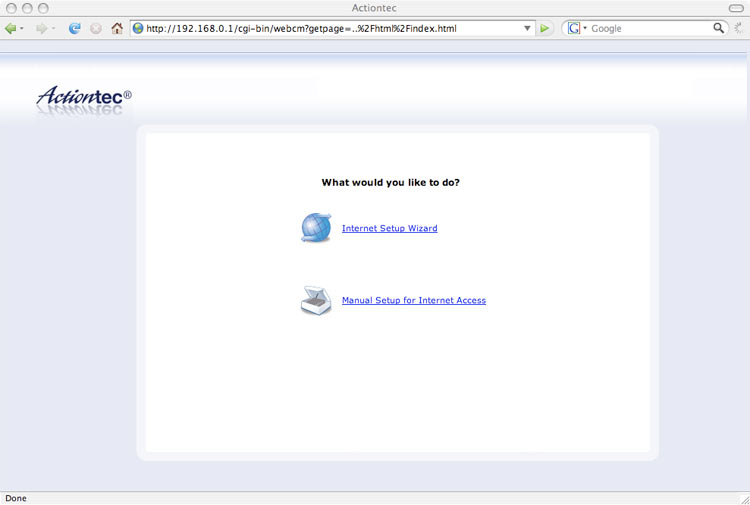 4. Click 'Manual Setup for Internet Access'
5. You'll now be on the first page of the Quick Setup. Click 'Next' to continue.
6. Select 'PPPoA' and then enter your DSL username and password. If you do not know your DSL username/password, please contact E Street Support to obtain this information.
7. Once you've entered your username and password, click the 'Apply' button to save your changes.
8. After you click 'Apply', it should automatically take you to the 'DSL Settings' page. Make sure the 'VPI' is set to zero and the 'VCI' is set to 32. Click 'Apply' to save your changes. You will be able to access the internet once the 'Internet' light on the front of your modem turns solid green.