Some considerations will be;
1. Inventory – what equipment you will move into your new cabinet(s) such as Server(s), typically a network switch (your cabinet hand-off will be a single CAT5), any peripherals such as external hard-drives and firewall.
2. Space –Determine the overall size and layout of your equipment to be sure it all fits; Colocation cabinets come in three sizes:
     – 1/3 Cabinet = 13U of space
      – 1/2 Cabinet = 21U of space
      – Full Cabinet = 42U of space
Rack mounted equipment is encouraged. Be sure to acquire "rails" or shelves as needed for equipment. Cage screws and threaded nuts for inside the rack will be provided. Racks are standard 4-post, square hole mounting.
3. Power –Determine your power requirements to ensure your equipment load does not exceed what is allocated for your Power Distribution Unit (PDU). You will want to ensure your devices support dual power sources (e.g.: 110v-208v-240) which most computer equipment does these days. BUT YOU MUST BE SURE.
Although special arrangements can be made for 110v equipment, use of this voltage is discouraged. Your power in the E Street racks would be 208v Single phase – so ensure your UL tag on your powered equipment (similar to below) says "100-240v".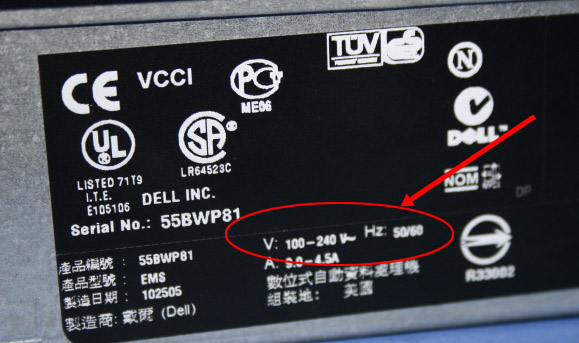 Detachable power supply cords require C13/C14 plugs: 

NOTE: Use of "Y" Splitter power cords is not allowed in the racks Power cords and adapters are available here at E Street and online retailers such as PROVANTAGE or Amazon.com (look for "IEC 320 C14 to IEC 320 C13 cords") Contact your E Street representative for help if needed.
For power cords that will need adapters for C14 Outlets …again BE SURE your UL tag on your equipment is dual rated and says "100-240v" (above). Adapters can be found for standard NEMA 5–15 plugs: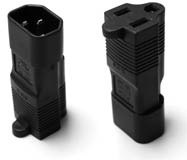 (look for "C14 to Nema 5-15R (10 Amp) Power Cord Adapter") E Street may have these items (shelves, cords, adapters, etc.) available for purchase as well. Contact your E Street representative for help if needed.
4. IP Space and DNS –Determine your Domain Name System (DNS) changes ahead of time – since you will most likely be changing IP addresses for your equipment, that should be pre-arranged. Contact your E Street representative for IP assignments and DNS assistance as needed.